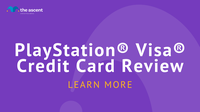 PlayStation® Visa® Credit Card Review
What could be improved
Once you get into the fine print of the card, some serious downsides are revealed.
Reward redemption rate is low
At first glance, earning up to 5x more points per dollar sounds pretty awesome. Well, you'll want to hit pause on your excitement long enough to take a look at what your points are actually earning you.
When it is time to redeem your rewards, you will be redirected to the Sony Rewards catalog. There, you can choose from everything from Sony gear to gift cards. The value of your points will depend on what you get.
At best, your points can be worth $0.01 each if you redeem them for a PlayStation Store gift card. Pretty much everything we've seen has resulted in a point value of less than $0.01 per point; in fact, it was often half this. For example, a $5 Starbucks gift card costs 1,000 points, which equals $0.005 per point.
This low redemption rate means that your 5x points per dollar could really be recouped at 2.5% – which is far less impressive. And 2x points per dollar on restaurant purchases becomes 1% back, which is the base rewards rate for nearly every rewards card we reviewed.
3% foreign transaction fee
The PlayStation® Visa® Credit Card has a 3% foreign transaction fee. These fees are added to any purchase made in a foreign currency or transiting through a foreign bank. In other words, if you've ever thought about traveling to Sony's home country of Japan, don't take your PlayStation® Visa® credit card with you! You should also be very careful when using it for online purchases from retailers that might not be based in the United States. (Yes, this includes purchasing the special edition Japanese version of this game from the overseas Ebay seller.)
High APR and fees for balance transfers
Of course, you probably don't get the PlayStation® Visa® Credit Card with balance transfers in mind – there are cards specifically designed for balance transfers – but you might want to actively avoid them. Not only does the card have no intro APR offer for balance transfers, it has a very high ongoing APR on those balances. In fact, the balance transfer APR is even higher than the cash advance APR, which is unusual to say the least. You will also be hit with high balance transfer fees for each transfer. Just say no.